This spring and summer I thought of venturing out to cover gorgeous waterfalls in and around New England for my site www.sabdvisuals.com. I was fortunate enough to cover most of the important places. Some of them required a good amount of adventurous hiking and I should thank my friends for their support and encouragement in accompanying me to achieving that feat.
Here comes a list of those falls with little bit of info on its location and routes. Try visiting those places to capture those majestic views with your eyes or visit my site to check it through my camera lenses.
Arethusa falls – Crawford Notch area – Click here for directions
Considered one of the tallest/largest water falls in New Hampshire, this one is a must watch for the nature enthusiasts. The path requires a good amount of hiking for about 1.4 miles one way with the elevated stretch starting straight away.
Requires boulder hopping after you get closer to the falls. The view is breath taking and massive – and you may find heavy waterfall in early spring.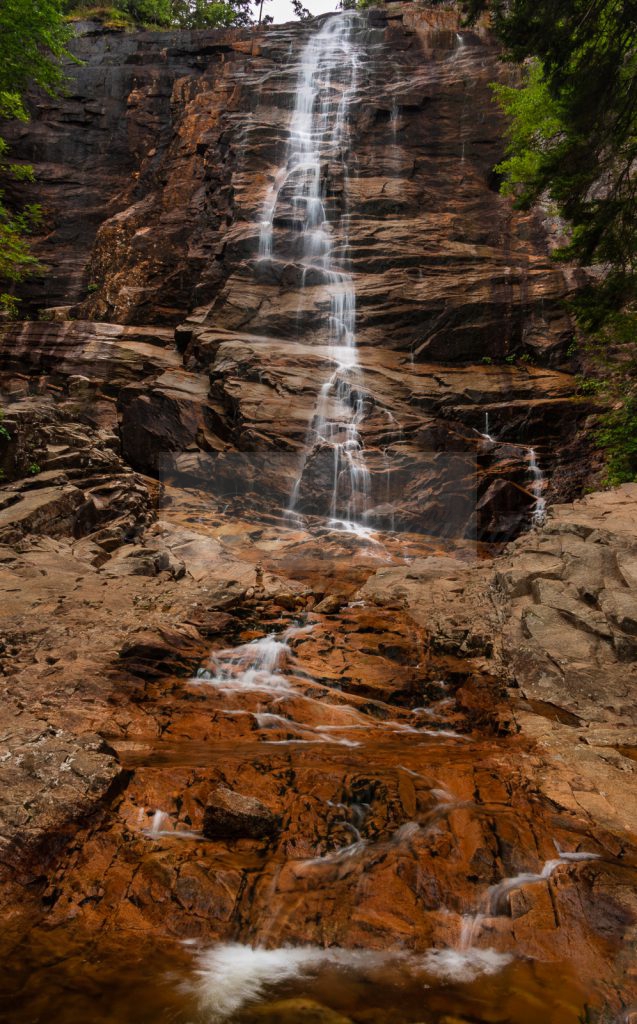 More waterfall pics at www.sabdvisuals.com
2. Bemis brook falls – Crawford Notch area – Click here for directions
Bemis brook falls is also in the same Arethusa falls trail but gets separated in about 0.2 miles. This one is a harder trail than Arethusa but the adventurer in you will love the challenge. This one has little elevation but the trail path is narrow and on the edge of the hill while taking you in parallel to multiple water cascades enroute. There comes a smaller waterfalls called Coliseum falls at the start and at the end you get to see an amazing cascade in Bemis brook. The path from Bemis to arethusa is almost vertical and challenging.
Best viewed during spring as the flow of water will be very high and a decent one during summer days..
More pics at www.sabdvisuals.com
3. Silver cascades – Crawford notch area – Click here for directions
This is another easily accessible waterfalls that can be seen from the road side in the Crawford notch area. There is a parking just opposite to the falls and it is visible from there. Early spring brings a lot of water to the region and looks awesome..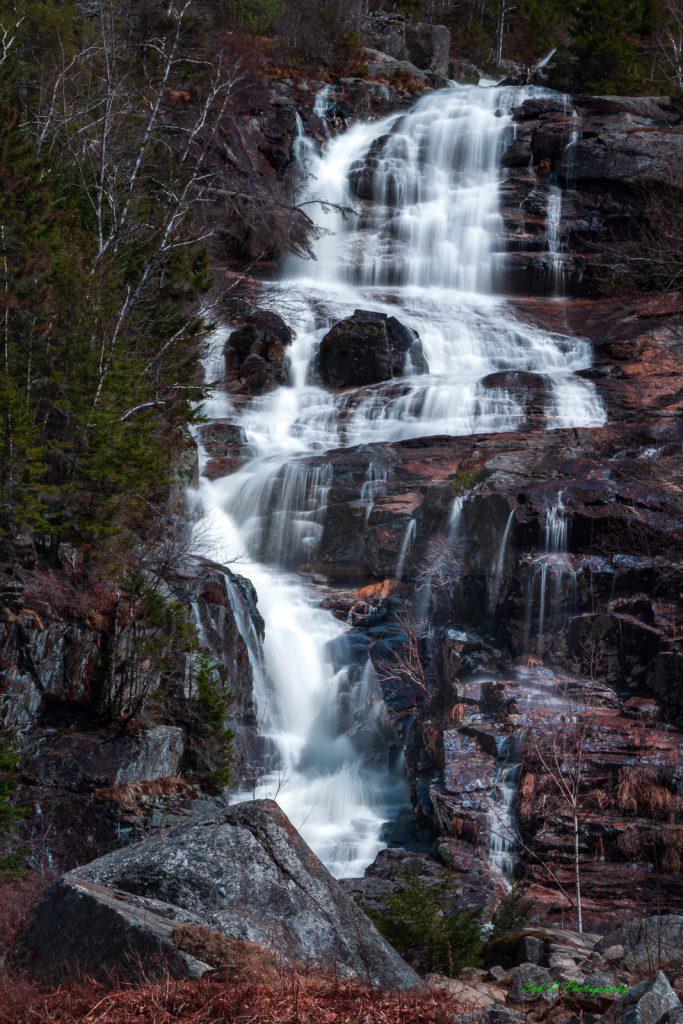 More pics at www.sabdvisuals.com
4. Cloudland falls – Falling waters trail – Franconia Notch area – Click here for directions
This is another amazing waterfalls that should be tried out if you are in the Franconia notch area. The falling waters trail is a moderate hike that takes you through creeks and rocks and it's a bit of challenge for the non-regular hikers. Most of the hike you can see water flowing alongside the path. The first waterfalls is an interesting place that has water falling over a stair case like structure. Upon further up the trail is the cloudland falls that looks massive and gorgeous.
Better viewed during early summer / late spring as it makes it easy to hike and also has plenty of water
More pics at www.sabdvisuals.com
5.Crystal cascades – Pinkham notch area – click here for directions
This is a must watch waterfalls around the Pinkham notch trail. Most of the hikers start here for climbing Mt. Washington. This falls is just about half a mile from the base along the Tuckerman Ravine trail with very good pathway and relatively easy hike. Better viewed early summer and the view proves to be magical!!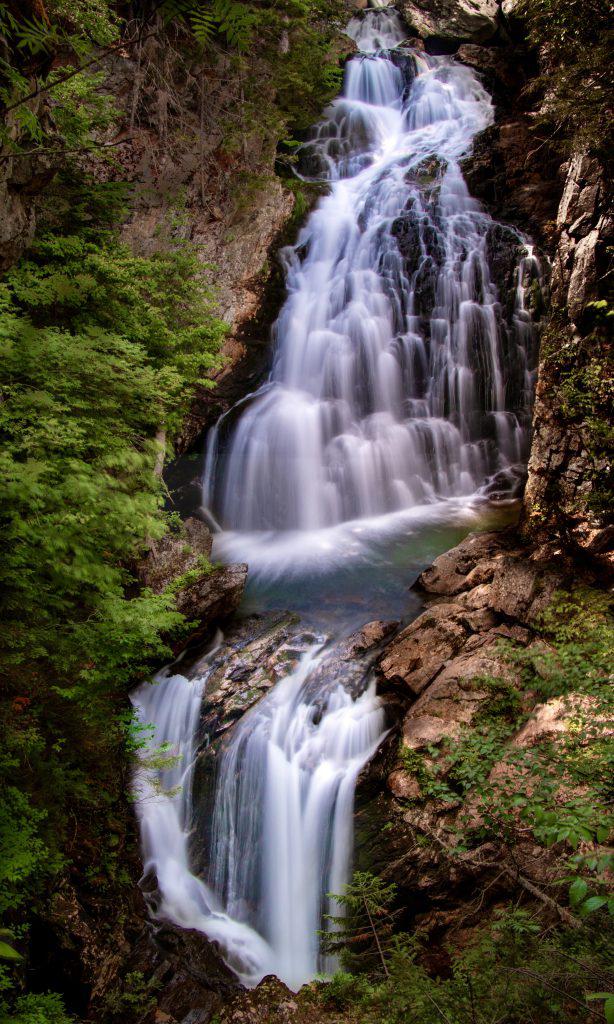 More pics at www.sabdvisuals.com
6. Falls of song – Castle in the clouds – Click here for directions
Though the original attraction here is the castle in the clouds mansion and it's surrounding meadows, there is a brook walk pretty close to the mansions that takes you through 7 different spots over a half mile slope. Each of the 7 spots is marked with a board providing some details. There are two paths – one closer to the water is a bit challenging and there is another a bit far from the water but easy to navigate. My best pick is the bridal veil falls (#6) in the list.
Best viewed during spring season / early summer. One can spend around half a day here and picnic at the lovely green meadows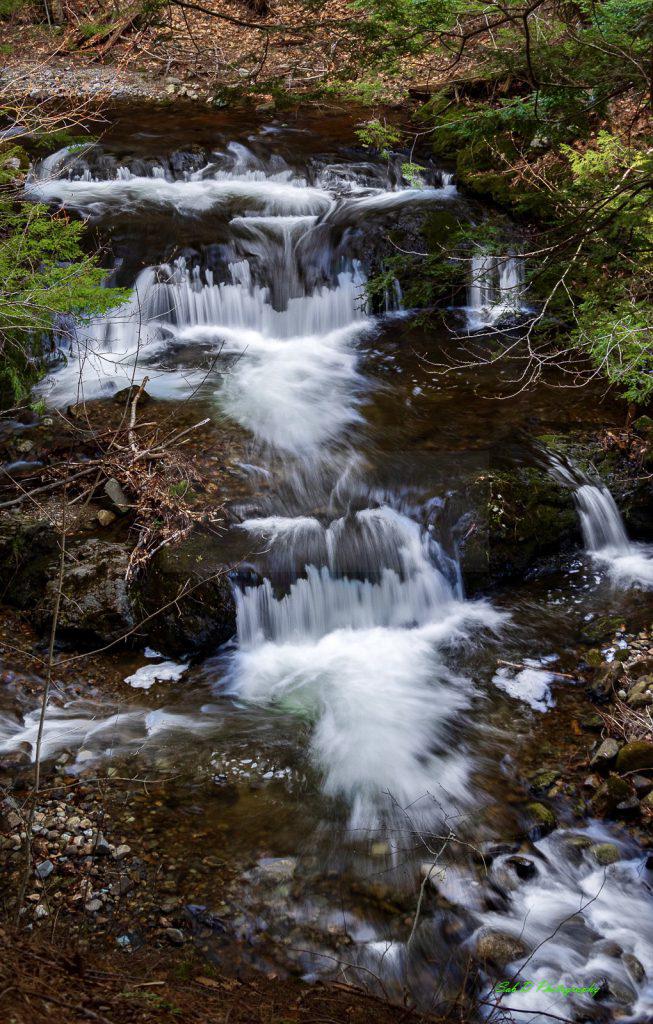 More pics at www.sabdvisuals.com
7. Sabbaday water falls – Kancamagus Highway – Click here for directions
One of the nicest waterfalls in the "Kanc" region- the famous Kancamagus highway, is the Sabbaday water falls. Its about half a mile walk from the trail head parking to get to the falls and then a board walk up to see various stages. looks really awesome during fall with the entire region presenting colorful foliage.
Best viewed during Summer/ heavily crowded during peak fall season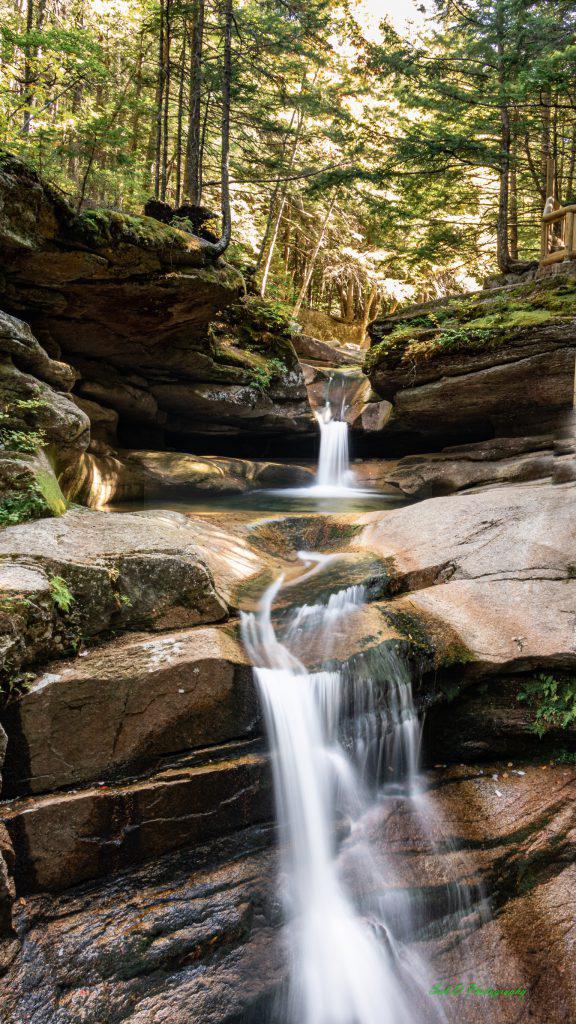 More pics at www.sabdvisuals.com
8. Jackson falls – Click here for directions
This is a very nice and calm waterfalls located in the town of Jackson NH that provides a beautiful water cascade, a swimming hole and a picnic area. The water flow is high during early spring and they look gorgeous. When the water level goes down in mid summer, there are plenty of spots in this rocky gorge where one can relax for the day. There is a small parking lot closer to the falls and gets busy during spring season. Being close to storyland amusement park, this can be another place to unwind and relax.
Best viewed in early summer / late spring. Fall season brings in awesome colors to the surrounding area and makes this place magical.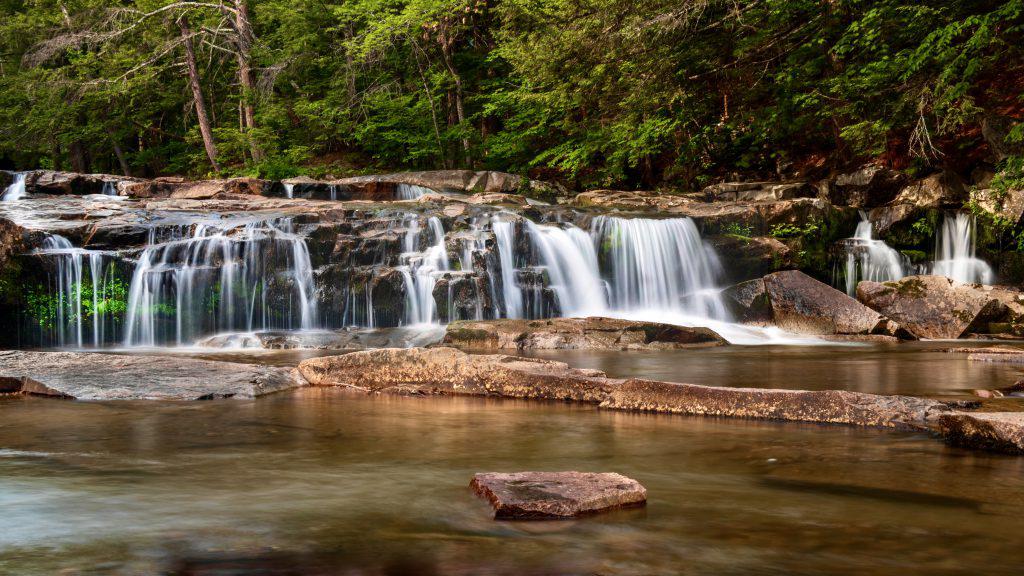 More pics at www.sabdvisuals.com
Those were some of the waterfalls I could cover in the NH area. Here comes a few that are worth considering as well.
———————————————————————————————————————————
Screw Augur falls – Grafton notch State park – Maine – Click here for directions
One of the best attractions in the Grafton notch state park located at North Oxford, ME is the screw augur waterfalls. This is very close to the road/parking lot and accessible to all ages. One can get into the rocks pretty easily and follow the water to see the huge drop into the gorge. There are fences at the top to avoid any mishaps.
Good place to spend about an hour if you are around this area. Best viewed in spring / early summer.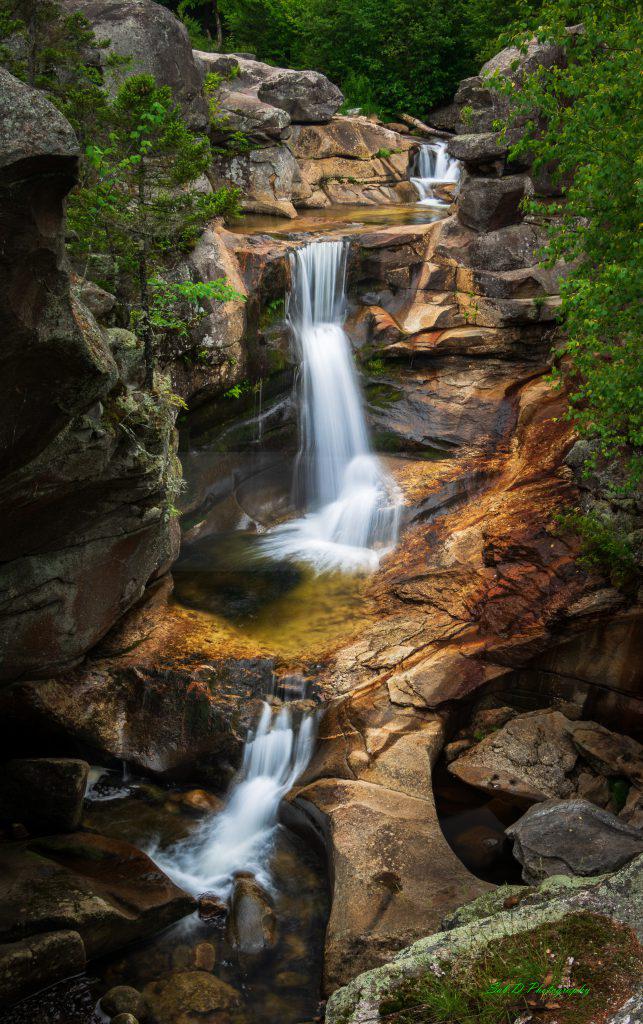 More pics at www.sabdvisuals.com
Doane falls – Royalston Massachussets – Click here for directions
This falls is a bit tricky as you have to hike down through a tough terrain to get a decent view of the waterfalls. This appears to be a hidden gem and the more you dig deeper into this path, you will find awesome views. The water gushes with a huge force and takes multiple turns before settling down.
Worth a visit if you love both hiking and nature. I don't think it is suitable for swimming as I did not find any spots.
Best viewed in summer/ after rain.
More pics at www.sabdvisuals.com
Thundering brook falls – Killington Vermont – Click here for directions
This is one of the waterfalls that is for all.. no hiking necessary… there is a board walk from the parking that takes you very close to this view.. you can even take your baby strollers with you.. A place worth visiting if you are in the area..
best viewed spring/early summer.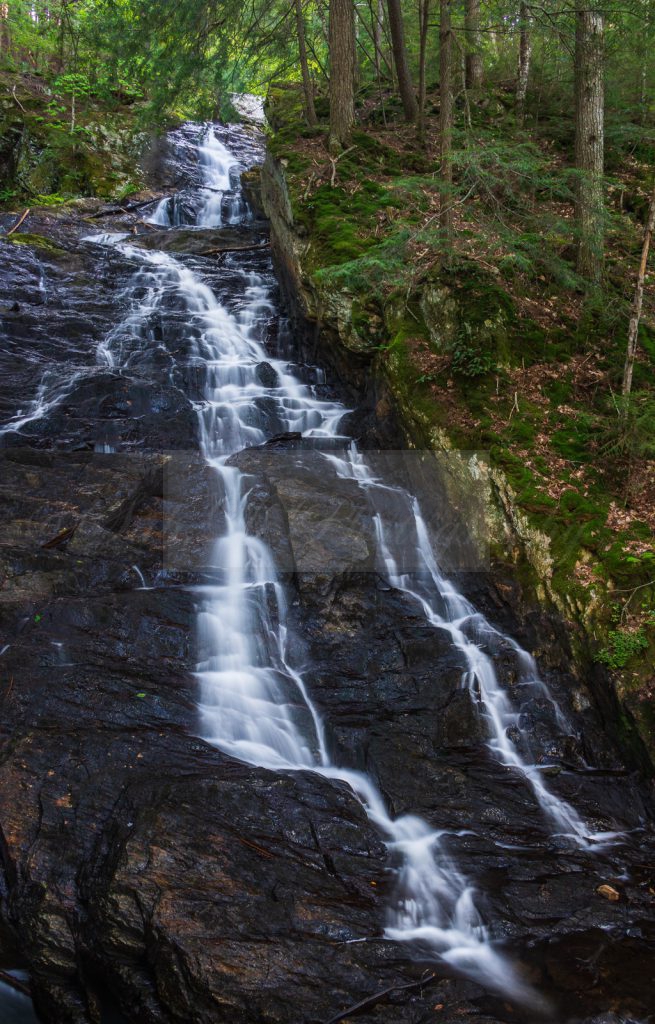 More pics at www.sabdvisuals.com
Hope you find this useful and get to visit some of these places to enjoy the natural beauty…
Note: The information provided here is purely based on my experience and not official statements. Kindly check the appropriate official websites before visiting those places